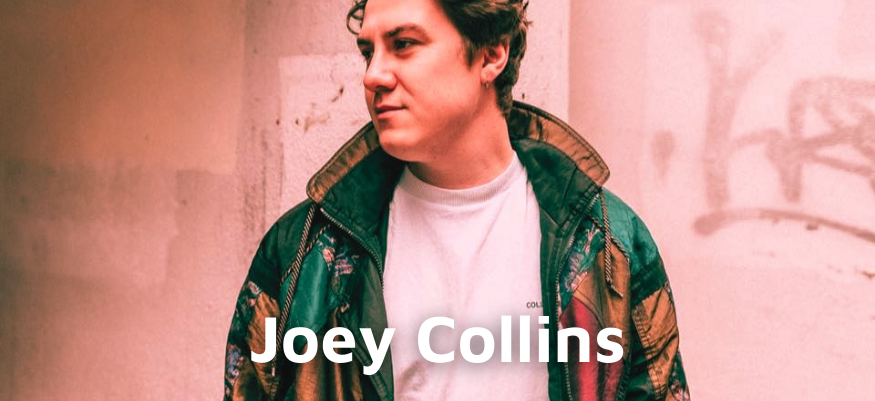 October 30, 2021
I discovered, perhaps like many IMC fans, Joey Collins on September 2, 2021, when he took part in the Raid Train that Luna Keller ran on Twitch to save our radio station. Joey was part of the incredible line-up of this unforgettable day. And if the name doesn't ring a bell, here's a short video that might jog your memory. Yeah, the frog was Joey.
I was then able to browse his songlist (for the uninitiated, this is a list of original songs or covers that people can request to be played during a Twitch stream). And I quickly understood that we were going to get along well when I saw names with which I built myself: Snow Patrol, Editors, Radiohead, Green Day, RHCP, The Kooks, Staind, Coldplay ... These bands made my teenage years, and probably Joey's childhood (since he's almost ten years younger than me).
At that point, his songlist didn't have a lot of originals, but I consoled myself with his Spotify and took a slap.
It was therefore impossible that we miss his new EP, "The Past Is A Foreign Place", released yesterday. I, therefore, suggest that we browse this collection of 7 small jewels, one by one.
The EP opens with "Feed Me Your Love", a mix of electric guitar and vinyl scratches that inevitably reminds me of Linkin Park. A very powerful bass line welcomes you on the first verse, and the reverb affixed to the voice is sufficient to give it an astonishing airy side. A few synths after the first chorus bring me back to the same time since I immediately had in mind "Mr. Brightside" from The Killers. It's amazing how Joey was able to take lots of small elements from the biggest names in rock recent history to build his own musical identity. A very strong identity, and "Feed Me Your Love" is a perfect opener, which stays in our heads for hours.
If I had to sum up "Fade Out", I would say that it is a concentrate of all the talented bands that I mentioned previously. We feel that they had a notable influence on Joey's sound. And the incredible long sung notes are breathtaking. I really loved the alt-rock side of it and the vocal power of Joey on this masterpiece.
"The Abyss" begins with a long and mysterious intro. And the vocals on the first verse left us speechless. What mastery! "I can't fight these demons away". If you sound like "stuck in the abyss" this song will speak to you. Usually, we love it when the tracks give us a firework and power-filled ending. But I admit that the fact that this song is while retained pleases me enormously. This very precise control of emotions is quite enjoyable.
"London Town", the latest single off the EP, is much quieter and probably the most successful track. The vocal harmonies are absolutely delicious. Earlier in the article (or the EP, it's up to you), I referred to Linkin Park. I find a little of the voice of the late Chester Bennington in this track. It's a flattering comparison, but so real. I felt like I was back in the early 2000s, listening to Linkin Park lying on my bed in my teenage bedroom. Here again, the restraint prevails, and the final part of the song benefits from cleverly dosed percussion which gives a little air to the atmosphere which has been a little heavy until now. The electric guitar solo comes like a seal to close an envelope full of mysteries and secrets. A real stroke of genius.
"Family" seduced me from the first minute, with these wonderful electric guitar notes, reminiscent of post-rock bands that once made me soar, like the Canadians In-Flight Safety, or the Californians of The Airborne Toxic Event. The production here is worked down to the smallest detail and the echo on the vocals is a brilliant idea. The very end of the song reserves a little delicate surprise for your ears: a small melody played by a discreet electric guitar placed on a background sound layer.
"Sober" is a mostly acoustic track, where Joey gives us perfectly mastered vocals and absolutely delicious guitar picking. No artifice, no overload, the horizon is clear, and the song has a perfectly appropriate title. It's sober, yes, but delicate and very nuanced. This song is appreciated as one would for a painting. By taking all the time to enjoy it. Because although being the calmest track, it's not the least emotional. On the contrary. The lyrics gave me a slap.
The EP ends with a piano-voice cover of "Where is My Mind?", Pixies. A song originally released in 1988 but that I only discovered in 2003 thanks to the cover of Placebo on their album "Covers". Placebo who are also part of Joey Collins' songlist on Twitch. It may not be a coincidence. If I want to be honest I would say that there have been so many versions of this song that it is difficult and even risky for an artist to tackle it. It's like a rock monument. But Joey's version, without wanting to sound cheesy, is hands down the best rendition I've ever heard. I always found that there was a gap between the lyrics and the interpretation of this song (regardless of the performer). Joey does it justice, because, finally, I felt the thrill of every word, every line, and every verse like a huge electric shock through my body. That's what we call the thrill, isn't it?
To conclude, I would say that I had a 26-minute trip to the best years of my life, where I discovered big names in rock, and which probably influenced my musical and editorial choices for IMC. I think it's no coincidence that IMC only offers three universes (indie-pop, indie-folk, and indie-rock). And Joey Collins took me back to those beautiful years, subtly, with this magical and timeless EP. Because in twenty years, it will still have the same flavor. Like a candy that we keep carefully wrapped. Whether you like piano-voice ballads or alternative rock, you will inevitably find in this EP a track to add to your playlists. It's pretty hard to pick a favorite when the quality score is extremely high on a record, and consistently, but I would say that "Fade Out" literally blew me away.
Congratulations, pretty frog, here you are, ready to conquer ponds much larger than your water lily, and armed to face the stages of the biggest festivals.
_________________
This article has been written with love by Niko. "Fade Out" has been added to our "Fresh Indie" playlist on Spotify.
_________________
If you don't want to miss future releases, feel free to join our lovely community: